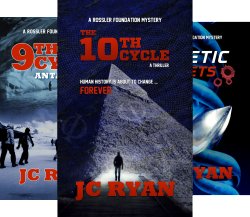 For decades scholars have been saying that the truth about human history will be found inside the Great Pyramid of Giza.
Intrigued by this ancient mystery, Daniel Rossler sets out with the help of archeology professor Dr. Sarah Clarke to investigate and solve this riddle.
What they discover will change not only their lives and those of their family and friends, but the world.
From the United States to Germany, the Middle East, and Antarctica, they will face off with secret societies with deranged and psychopathic members, power-hungry descendants of ancient royalty, and a lunatic who wants to control the world.
They struggle against the environment, ancient diseases, infiltrators that want to destroy their foundation, friends and agents who aren't who they seem, and find shelter and assistance in the most unlikely places and with the most unlikely people – and develop some of the most incredible technology imaginable.
There are currently six standalone books and two box sets in the Rossler Foundation Series: